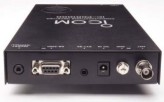 The
Icom PCR-1000
is a computer based radio scanner that tunes from 10Khz though to 1.3Ghz in all modes (AM/CW/FM/WFM/SSB). Finding linux support for these scanners seem to be getting harder and harder - and with recent changes to gcc, some have broken. In a quest to make this information available again to people who run PCR-1000 scanners, I've pieced it all together here and made pcrd compile with the latest gcc versions and released it as v0.12. The source for pcrd v0.12 is
here
. Compiling pcrd is straight forward. You can use the make command and include your distro, for example "make linux". Once everything has compiled, you should have a working pcrd binary. You can bring up the help screen by running "./pcrd -h". You should get the following output.
$ ./pcrd -h
Usage is ./pcrd [-i] [-s ] [-v ] [-d ] [-C port]
[-A 0|1] [-N 0|1] [-S 0|1] [-I ] 
Options:
-b                  = Daemon Mode (Background) - I ran out of letters!
-C                  = Use alternate socket port nnnnn
-X                  = eXit (only in Daemon Mode)
-D <0-9>            = Set program debugging level
-R                  = Suppress radio status reporting while looping
-C            = Use this port number for socket Communications
-l                  = Loop sending command to radio every 5 Seconds
-i                  = Initialize radio
-s         = Hex range from 00 to FF
-v          = Hex range from 00 to FF
-O                  = Radio OFF
-d            = serial port. Default /dev/cua0
-A <0|1>            = Automatic Gain Control 
-N <0|1>            = Noise Blanker 
-S <0|1>            = RF Attenuator 
-I <00 - FF>        = IF Shift 80 is Center
Freq                = 0.050 -> 1300
Modes               = lsb,usb,am,cw,nfm,wfm
filter              = 3,6,15,50,230
 
Example:
./pcrd 101.700 wfm 230
./pcrd 137.500 am 50
 
./pcrd looks for /dev/pcr1000 before using default port for radio connection
 
Socket communications are assigned to port 5151
 
This is ./pcrd Version 0.12
This should be about all you need to tune your PCR-1000 through linux. I use mine via a PHP interface and stream the output to an icecast server. This means I can tune and listen to my scanner from anywhere on the web. It shouldn't be too hard for anyone else to do this.